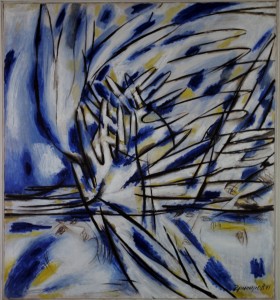 As Ukraine approaches a fateful election next Sunday, I have been drawn to contemplate one of the most moving and thoughtful paintings in our collection. The painting pictured above is by Viktor Hryhorov (Grigorov–Григоров). Rebecca and I purchased it from the painter in the early 1990s. We visited Victor's apartment and were stunned by his and his wife's art. He was not in good health but his art was bright and joyful. He explained that he had been asked to do an exhibit of his paintings in an area affected by the Chernobyl nuclear disaster shortly after it occurred. It seems the Communist Party officials wanted to demonstrate to the locals that there was no danger. Of course, there was danger. And then, by the time we visited him, Viktor was suffering from his exposure to the radiation, and could no longer drive the Mercedes he had purchased in Germany from the sale of his paintings. He died in 2002.
Independence Day is not a typical Hryhorov painting. Art critic Svitlana Fesenko described his work as follows: "His lines are lively, always moving in a fantastic dance, turning into an inconceivable maze full of vague images." The lines in Independence Day are lively, but the images are anything but vague and the patterns are not "inconceivable."
Reception of a work of art is always a very personal matter. But what I see in this painting is a combination of celebration and reserve. The bright colors of the Ukrainian flag and the clapping hands portray joy and celebration, but a close look at the faces reveals something else: they convey not joy or celebration but contemplation with a touch of sadness, a pensive mood. Could it be brought on by doubts about the future? No way to know. But I have turned to contemplate this painting frequently over the last few months.
You can find more about Viktor Hryhorov here.